4 Reasons ....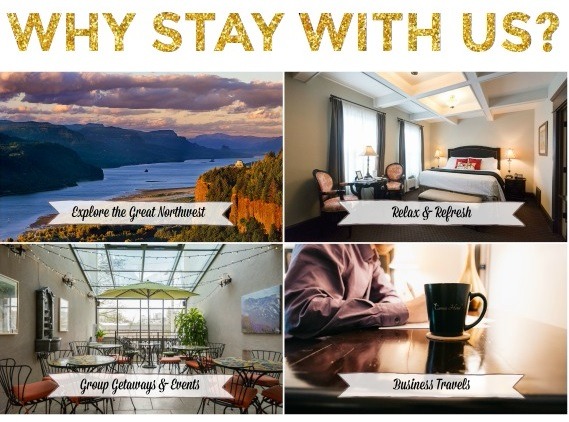 ​EXPLORE THE GREAT NORTHWEST
Explore the Columbia River Gorge when you stay at the Camas Hotel! Ask our front desk staff about the Lacamas Creek Trail Head, Beacon Rock State Park, Multnomah Falls and other cool hiking spots!

STAYCATION - RELAX, RENEW & REFRESH
Take some time for yourself! Relax in our boutique rooms, take it a step further by booking Room 3, our Deluxe Suite with Jacuzzi tub! Local salons and spas are all within walking distance, which makes it easy to treat yourself with a massage or facial! Unwind with a special champagne package after your relaxing day!

GROUP GETAWAYS
In need of a girls or guys night? The Camas Hotel is perfect for you! Ask us about our Group reservation rates, or our adjoining rooms! Start planning today

BUSINESS TRAVELS
The Camas Hotel isn't just for your leisurely stays, it is also perfect for those traveling for business! The Camas Hotel offers so many premium amenities for our business travelers!

• FREE WiFi!
• Complimentary enhanced continental breakfast! (ensuite only)
• Fax services available!
• The Camas Hotel is surrounded by lots of shops and family-owned restaurants - all within walking distance!
• Our atrium can be used for a meeting space for you and your colleagues or clients!
• And so much more!
Posted in not categorized
Tagged with no tags