February First Friday!
Nick Calais and Tami Weidert- two of Camas's biggest First Friday attenders and ambassadors are getting married!!
​Everyone loves a wedding so we are especially excited to announce that for the First Friday in February, 2018, we will be hosting a wedding in Downtown Camas where everyone gets to be a part!!

It will be a "Wedding Affair to Remember"! Nick Calais and Tami Weidert—two of our biggest First Friday attenders and ambassadors—will say "I do" in front of friends and family and the community is invited as well! Nick and Tami have been to each First Friday since April 2015 and have made so many friends and connections over the years. They have a true heart for our community and what First Fridays bring and they want to share the First Friday experience with all their friends and family—and want you to come, too!

The theme each February traditionally has been "A Chocolate Affair to Remember" so for Feb 2018 it will be "A Wedding Affair to Remember"!

It will be a giant downtown wide wedding celebration! The ceremony will be held at the Liberty Theatre at 2pm (community is invited!). Our Camas Mayor Scott Higgins will marry them. Tami will carry a paper bouquet (including toilet paper of course!) in honor of our town's heritage. Cake Happy will provide the wedding cake and food from all the downtown restaurants will be served at an outside celebration with lighted tents, music, dancing, games and more! There will be wedding themed specials and activities all through town. We're hoping to have the breweries/tap rooms have wedding themed beers, special wedding cocktails and specials in the restaurants, and whatever else our creative merchants come up with! For the passport activity in the evening from 5-8pm, merchants will have their wedding pictures in their shops and you get to guess the date of the wedding! There will be chocolates throughout town at merchants as well.

The Liberty Theatre of Camas-Washougal will show the classic film An Affair To Remember with Cary Grant and Deborah Kerr that Friday and Saturday as part of the theme.

A Wedding Show with local vendors will be set up in Journey from 5-8pm as part of the theme including Your Big Day, truly scrumptious, blu box art,Whispering Waters Farm, Chickabloom Floral Studio, Whimsy Chocolates,Mandi MOON artistry, Your Party & Event Center, and more. A perfect way to connect with quality local wedding vendors!

It is because of their heart and downtown engagement that we decided to do this for a First Friday event. An amazing way to celebrate two of our favorite downtown visitors and include the community in a big way! It's going to be a First Friday to top all First Fridays and all are invited.

Mark your calendars for 2-2-18! It will be a wonderful night celebrating love and community.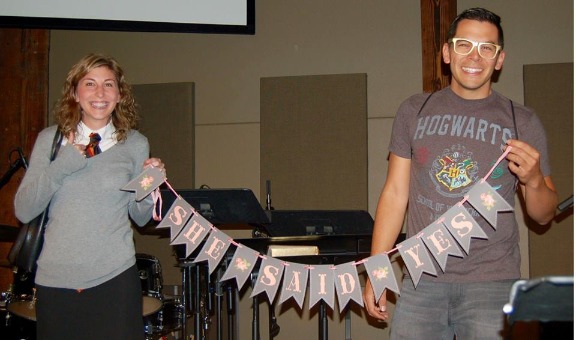 Posted in not categorized
Tagged with no tags