Rest & Revive Retreat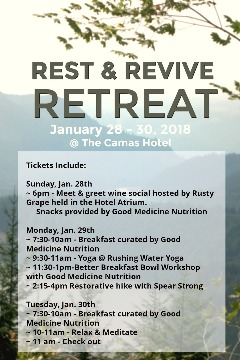 ​Join us in January as we take a moment to center on ourselves through a series of workshops lead by knowledgeable professionals. You'll take home the know how and insight needed for continual self care throughout the year. On January 29th spend the day reconnecting to yourself and recommitting to your well being through yoga, a nutritional workshop and a refreshing hike. Meet those who'll guide you through the days events the evening before in the Hotel Atrium, Jan. 28th at 6pm.

Tickets start at $150 per hotel guest. Please call us at 360-834-5722 for inquiries.

*Discounted tickets available to those in need in our community. Please call the Camas Hotel at 360-834-5722 to learn more and purchase.
*Not advised that those younger than 14 years attend.

Sunday Jan 28th


Check in begins at 3pm.


6-8pm Social Meet & Greet in the Hotel Atrium hosted by Rusty Grape Vineyard & snacks by Good Medicine Nutrition

Monday!


​7:30am-10am Enjoy a special hotel breakfast curated by Good Medicine Nutrition

9:30 -11am with Paul Cheek at an Iyengar Yoga Session.

At Rushing Water Yoga we meet the students where they are, and choose a challenge by choice approach to teaching. Yoga is an ancient, holistic discipline originating in India. It involves much more than the physical postures (asana). Yoga is a work in - not a work out. Through the commitment to the practices of Yoga we can learn how to be present in all areas of life. At Rushing Water Yoga it is important to the teachers that they help prevent injuries, help you progress at your needed pace and encourage you to develop a life-long, sustainable yoga practice.

Along with signing up for this day of self care you can continue your practice for one unlimited week of follow up Yoga at Rushing Water for Free.

Peggy at Tri Healing Retreat/Rushing Water Yoga studio is offering $15 off a 60 minute massage if you schedule 48 hours in advance during the week of January 29th- February 5th. Reach out via [email protected]


11:30 am-1 pm learn from Emily Penn, of Good Medicine Nutrition for a Better Breakfast Bowl Workshop

Build a better breakfast! Learn how healthy fats, fiber & delicious ingredients will leave you energized, focused & ready to take on your day!

- we will be making chia pudding bowls & chocolate smoothie bowls

- high quality ingredients

- long-lasting energy from healthy fats

- start your day with a solid nutritional base!

2-4 PM Hike with Spears Strong!

Experience the unique beauty of the Pacific Northwest with local Personal Training Company Spears Strong! Hike in the Columbia River Gorge with confidence as we lead you through towering trees surrounded by waterfalls. The hike is beginning to intermediate, allowing you to hike at your pace. Before the hike, Spears Strong Hiking Club Leader Kelly Neill and co-owner Shelby Spears will lead you through a trainer-designed warm-up that will activate your muscles and get them ready for the hike. Spears Strong staff are CPR and First Aid certified and will provide first aid gear, extra water and snacks (those with food sensitivities or allergies should bring their own snacks). You will challenge yourself with some elevation gain and rocky terrain but the trail will be about 2 miles and rated easy/moderate. Use this quality time in nature to restore and recharge.

Ability level:

Hikers should be able to walk at least 3 miles and be able to walk on trail terrain with hills. They should have no current physical injury that would hinder hiking abilities.

Gear List *Participants should be sure to check the weather and bring gear for all possibilities. The Gorge can be unpredictable, especially in the winter. Weather can turn rainy and windy quickly, and it can even snow/hail, especially at higher elevations. Be prepared for anything. Trails can also be muddy and slick form rain. Comfortable shoes

with traction that can get wet and muddy. Hiking shoes or trail running shoes are great but a sturdy tennis shoe that can get wet could work as well.

Layers are a necessity when hiking in gorge in the winter.

Comfortable pants or tights, wool socks, a long sleeved shirt and jacket, etc... are good options. Avoid wearing cotton, especially if the forecast calls for rain or colder temperatures. Wool is our recommended apparel for hiking in the Pacific Northwest.

It is winter and rain is a strong possibility so you will want a

lightweight warm jacket as an outside layer and/or rain shell.

Kelly loves layers with waterproof breathable shells and lighter down jackets.

You will also want

lightweight gloves or running gloves and a hat

(wool or knitted- something that will keep you warm- a ball cap is also good if it's raining and warmer out.

Hiking poles

are optional if you like having them.

Backpack-

you may want to bring a small backpack for water, snacks and extra layers.

Water-

plan to bring at least 20 ounces (or one large water bottle). Staff will carry extra water but you are responsible for bringing your own water and light snacks such as raisins/seeds/nuts or what you prefer when hiking. ​

Tuesday January 30th


7:30-10am Enjoy another special hotel breakfast curated by Good Medicine Nutrition


10-11am Relax & Meditate


​11am Check Out
Posted in not categorized
Tagged with no tags