First Friday of the New Year!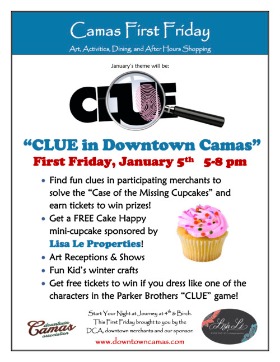 One of Camas's famous traditions is First Friday! A event that happens the First Friday of every month, and the whole downtown community comes together and has a huge event, with a new theme every time!

Stay with us, to get prime access to downtown and to be right in the action of this mystery! Stay, shop, explore, relax and INVESTIGATE!

The first, First Friday of the New Year will be CLUE themed! From 5-8pm come join along in the "Case of the Missing Cupcakes." Dress in CLUE inspired suspects attire and get extra tickets to win!

- Find fun clues in participating merchants to solve the "Case of the Missing Cupcakes" and earn tickets to win prizes!
- Get a FREE Cake Happy mini-cupcake sponsored by Lisa Le Properties, when you solve the mystery!
- Art Receptions & Shows
- Fun Kid's winter crafts
- Get 5 free tickets to win if you dress like one of the characters in the Parker Brother's "CLUE" game!
- Earn extra tickets to win with every $10 spent in downtown!

Start your night at the DCA tables at Journey at 4th and Birch!

Posted in not categorized
Tagged with no tags