NYT rates nearby White Salmon River as top world destination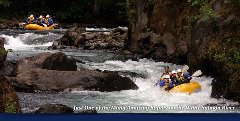 The story below is a reprint from the New York Times. We're very happy to share that they've rated the newly un-dammed White Salmon River as #13 of 46 major places to visit in the world.
Read full article
. The White Salmon River is just an hour east of Camas, and
our hotel
, as you head into the majestic Columbia River Gorge.
Wet Planet White Water Rafting
is a great way to see the river, although Spring Fishing is amazing too.
A RIVER RUNS FREE FOR THE FIRST TIME IN A CENTURY!
It's a white-water paddler's dream come true. A major dam removal in October to allow for fish passage means that the White Salmon River now runs all the way to the Columbia River, flowing freely from its glacial headwaters at Mount Adams for the first time in 100 years. Local outfitters like Wet Planet are expected to begin rafting and kayaking tours on the newly opened section of challenging Class IV rapids early this year. Conservationists are happy, too, as spawning chinook salmon and steelhead trout have already been spotted swimming upstream in the new habitat. — Bonnie Tsui
Posted in not categorized
Tagged with no tags