Summer Fun in Washington & Oregon
Posted on July 18th, 2012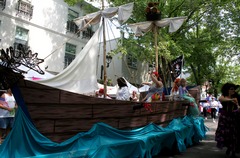 The Northwest is bursting with life in the Summer. In Camas the trees are laden with green leafs, and flowers are blooming throughout the downtown. Summer is the time when everyone comes out of the woodwork to enjoy their neighbors at festivals, farmer's markets, concerts and so many other lively events.
Guests who visit Camas may particularly enjoy the multitude of activities that are goimg on in or near Camas this summer: the
National Motocross Races
in Washougal 7/21 & 22,
Camas Days Festival & Parade
7/287 & 28, The
Camas Quilt & Fiber Arts Festival
8/3 & 4, The
Camas Vintage Street Faire
8/25, and the Camas Farmer's Market every Wednesday in downtown Camas from 4:00 - 8:00pm. The Port of Camas-Washougal, which has a marina hosts
Riverside Concerts
throughout the summer.
Of course nearby Portland, Vancouver, and the small towns and wildnerness areas in the scenic Columbia River Gorge are full of activities as well. Visit
www.bestgorge.com
for more info or for Portland, Tripadvisor lists about
297 attractions
. In addition to the regular attractions, Portland also has plenty of
special events
for foodies and music lovers.
Posted in not categorized
Tagged with no tags