Hidden Gems in Camas - Outdoor Activities
Posted on June 4th, 2011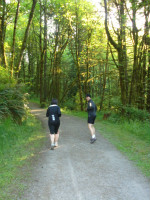 Heriitage Trail Park
, nearly
800 acres of wilderness & trails, can be accessed from downtown, just a few blocks from the Camas Hotel. Several
Camas Hotel
guests have taken to having a morning jog before they tackle their business for the day.
The trail from downtown Camas runs north along Lacamas Creek and connects to the Round Lake and Lacamas Lake Trails. Mountain bikers also this lovely area.
Many people have already discovered Lacamas Lake, but fewer people know about this little spot. On weekends guests may enjoy visiting the
Camas Postholes
in Summer. They are a popular spot to cool off at the top end of Heritage Trail Park, just below Round Lake.
Posted in
Hotel
Tagged with no tags