New Onsite Restaurant "Oliver's opens Thursday, June 17, 2010.
Posted on June 14th, 2010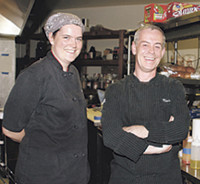 We are delighted to welcome Chefs Morris Fenton and Gwyn Manny to our new onsite restaurant: Oliver's at the Camas Hotel. They have assembled a talented team for the restaurant including bartender Ben Edel!
Oliver's will be open for
Father's Day
, on Sunday, June 20. with some special additions to the dinner menu!
For more information on the menus and upcoming events visit:
www.oliversatthecamashotel.com
Posted in Hotel, Around Town Camas
Tagged with no tags