And the winner is ...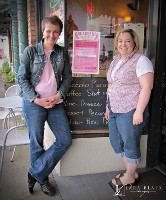 Girls Night Out in Camas on May 20th was blast. Hundreds of Ladies turned out for the big event, and had fun dining, shopping getting free spa treatments, and winning prizes while raising funds for local breast cancer charities. Organizers Carrie Schulstad and Shannon Van Horn deserve (shown left), among others, deserve a big round of applause.

Raffles were offered all over downtown. The winner of the Camas Hotel Raffle was Amy Richie of Vancouver. She won a night at the hotel for two, with breakfast included, and some free goodies (pink spa socks, pink notepad, a couple of Harwood's drink coupons, etc.) and two tickets to the Coronation of the Rose queen at Portland's upcoming rose parade.

Congratulations Amy!
Posted in Hotel, Camas
Tagged with no tags