Home Town Holidays ...
by
Karen
on November 14th, 2009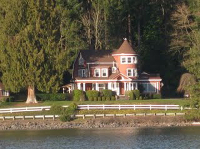 Get your reservation in soon for the weekend of Dec 4-6. Dec 4 is First Friday in Camas. In December the focus is Hometown Holidays, with the annual downtown tree lighting, with carolers and a visit from Santa Claus.

Sat & Sun, Dec 5th and Dec 6th the Downtown Camas Association and Soroptimists will host the 1st Annual Holiday Home Tour. Four distinctive homes in Camas are featured, each lavishly decorated for the holidays by leading designers and florists. Tickets are $20.
You can buy tickets at the hotel, or online at www.downtowncamas.com.
Vancouver tickets: Divine Consign.
Portland tickets: Bella Casa (Pearl District) or Sofa Table Chair (2 locations).
Call 360-834-5722 for more information. Happy Holidays!
Posted in Camas, Hotel
Tagged with no tags