Fall getaway special rates...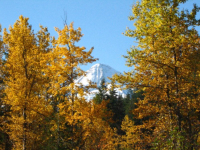 October Fall Foliage Special
It's that in between season here in the Northwest. It might misty and rainy, or it might be a gloriously crisp autumn day with the trees brightly flashing their fall colors.Take a chance on the weather, and you can enjoy one free night for every two nights you book with us from October 25 - November 12 (based on single or double occupancy). Call 360-834-5722 and we will place your special booking.

On a fine day, you can rent a bike at Camas Bike and Sport, golf at Camas Meadows (#1 public course in the Northwest) or hike on Heritage Trails around Lacamas Lake. If some rain moves in, you could visit a spa: Bloom Organic Body or Stewart's Family Massage are both nearby. Shopping, Dining and Movies, Museums are fun, whatever the weather. Then again you could just snuggle up in bed with a good book from the Camas Library (#1 library in the state of Washington) or from the Camas Hotel book collection.
Posted in not categorized
Tagged with no tags