by The Camas Hotel Staff on May 21st, 2019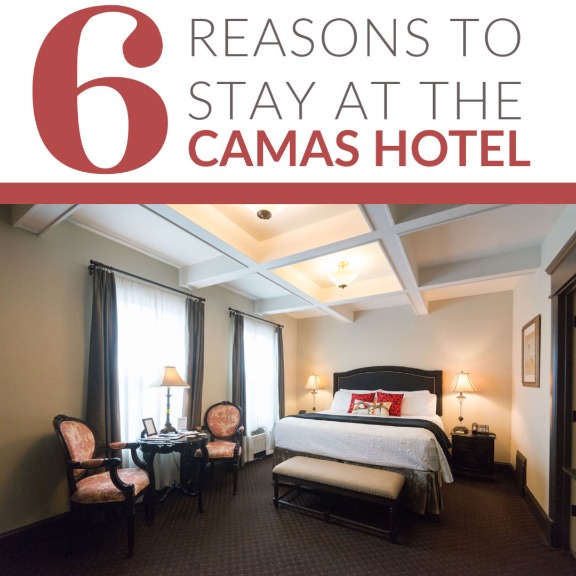 There is always something to do when staying in Camas! The options are endless, but here's a short list of our favorite things to!
Shopping, Dining & services all within walking distance! Explore Camas using your #Keys2Camas which include discounts to 23 businesses in our area!
Explore the Columbia River Gorge!
The Camas Hotel is located right at the mouth of the Columbia River Gorge! May a day out of it and take a little road trip to see the sights of the beautiful Columbia River Gorge. Hike and explore areas like Beacon Rock!
See the Big City! Portland, OR!
The Camas Hotel is conveniently located 20 minutes from Downtown Portland – Spend the day in the Big City, then come back and enjoy the quaint small town vibes
Live Music in Downtown Camas - Friday and Saturday Nights!
Check out Live Music in Downtown Camas – Friday & Saturday Nights at Salud Wine Bar - Event Center - Wine Storage , Birch Street Uptown Lounge , A Beer at a Time and more!
Take a Walk! Enjoy the Trails and Parks in Camas & Washougal
Walk various trails in the area – such as Steigerwald Lake Wildlife Refuge, Lacamas Lake Creek Trail, Fallen Leaf Park and more!
You're busy, you've worked hard!
Relax for the night! Spoil yourself with a retreat!
Kick back and enjoy a movie at the Historic Liberty Theatre of Camas-Washougal, guests receive FREE movie tickets when booking an ensuite room (Sun-Thurs)!
What are you waiting for? Book your reservation today! CamasHotel.com or at 360-834-5722!
by The Camas Hotel Staff on February 13th, 2019

#MyCamas is a "Top 6" Finalist in the The Small Business Revolution "Main Street" Contest!

Camas is in the running for a $500,000 investment, a starring role on a Hulu TV series, and life-changing makeovers to local businesses. Typically only 5 towns are chosen, but this year they threw in a twist and chose 6 towns. Camas is the only town on the west coast chosen in this competition and with a win, would be the first west coast town in this acclaimed series.
We need to SHARE THIS with everyone you know! We need each reader/viewer to get 10 people to vote every day!


Simple Steps to Vote for #MyCamas!
*Go to
https://www.deluxe.com/small-business-revolution/…/camas-wa/
*Vote for Camas
*Vote once per day per email address through February 19th at 6pm.
Camas is the only town on the west coast chosen in this competition and with a win, would be the first west coast town in this acclaimed series. Let's do this! Thank you so much!
by The Camas Hotel Staff on January 24th, 2019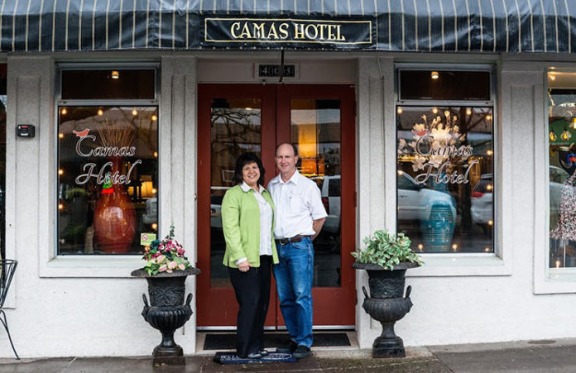 "The Camas Hotel, located in the oldest commercial building in downtown Camas that was built in 1911, has been charming visitors with its historic details ever since it was founded. The hotel has been owned and operated by many people throughout its time, and when Dave and Terri Sauer purchased the hotel in 2016, the space had been recently completed and renovated to define it as a luxury boutique hotel.
The quaint hotel consists of 23 rooms, 15 of them with private bathrooms, and eight with shared European-style bathrooms. Because of the different types of rooms, there are various price points that attract people with a wide range of budgets. Currently, there are 10 employees on average that work at the hotel, and Terri said that the revenue growth has been pleasantly moderate, as downtown Camas becomes known as a destination location, both for locals and those that are passing through the area.
Terri explains that after commuting to Portland for 20 years, she was looking for a way to get involved in a more local business adventure. She said that the Camas Hotel grabbed her and her husband's hearts right away.
"We both completely fell in love with the beauty, the history and the charisma of the Camas Hotel," she said.
Terri goes on to explain that Camas has really started to grow and with that, so has the list of loyal hotel goers.
To read more of this article, please select the following link...
Historic Camas Hotel charms guests for over 100 years
...
by The Camas Hotel Staff on January 23rd, 2019
2018 was a great year here at The Camas Hotel! This year we were awarded several awards based off of reviews from both guests and companies! We want to share our awards and thank everyone who contributed to our successful year!
AAA 'Inspector's Best Of Housekeeping 2018'
Hotels.com "Loved By Guests Award" Winner 2018
Booking.com "Guest Review Award 2018" Winner
Tripadvisor 2018 "Certificate of Excellence" Winner. 7th year in a row!
We are so thankful to have been recognized this year and we're so excited for what 2019 is going to bring us!
by The Camas Hotel Staff on January 17th, 2019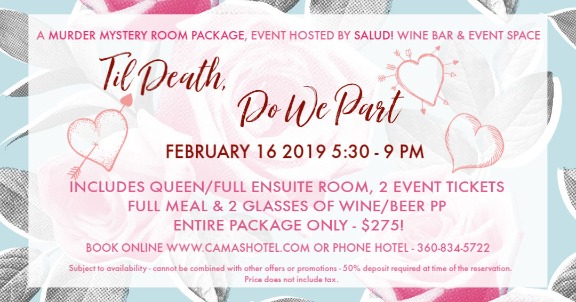 Thanks to those that came to our December murder mystery parties 'Murder At The Ugly Christmas Sweater Party'. It was an absolute hit, fun by all including staff! This party is being hosted and held at Salud! Wine Bar, and dinner is included with the package price. Book early, limited number of tickets are available.